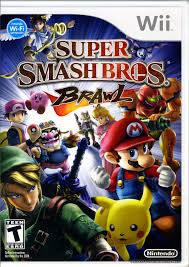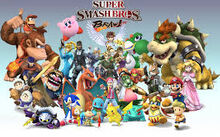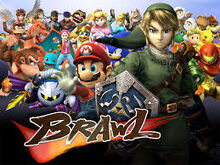 Super Smash Bros. Brawl is a game for thee Wii. It is the third Super Smash Bros. game. Its prequels are Super Smash Bros. Meele and Super Smash Bros. Its sequel Is Super Smash Bros. U. It no longer has Wi-Fi. The playable characters are Mario, Donkey Kong, Link, Samus, Yoshi, Kirby, Fox, Pikachu, Bowser, Peach, Zelda, Sheik, Ice Climbers, Pit, Wario, Zero Suit Samus, Ike, Pokemon Trainer, Diddy Kong, Metal Knight, Lucas, King DeDeDe, Olimar, Ness, Marth, Luigi, Falco, Captain Falco, Lucario, Snake, R.O.B., Ganondorf, Mr. Game and Watch, Sonic, Jigglypuff, Toon Link, and Wolf.
Ad blocker interference detected!
Wikia is a free-to-use site that makes money from advertising. We have a modified experience for viewers using ad blockers

Wikia is not accessible if you've made further modifications. Remove the custom ad blocker rule(s) and the page will load as expected.