Super Blooper/Turbo Blooper

Yoshi in the Super Blooper
Statistics
Size
Medium Weight
Speed
50
Weight
40
Acceleration
35
Handling
37
Drift
21
Off-Road
54
Mini-Turbo
35
Unlocking
One Star Rank or higher in 50cc Leaf Cup

The Super Blooper is an unlockable Kart exclusive to Medium weight drivers. This vehicles design is based off of a dangerous underwater enemy in Mario games, the Blooper ( the name also derived from this Character). The Drifting is what this Kart mainly suffers from, but good Speed and Off-Road statistics help this to be one of the most often used Time Trials Karts out there.
Description
Edit
With a very flat body, the Super Blooper is mainly white all over the body. In the back juts out a couple of twin boosters lined with a couple of stripes. Between the two small wheels of the Super Blooper are striped, tentacle-like projections that protrude about 1/2 a foot. Just above is the racer's logo (side of the door), and above that is the driver's seat. On the hood is a design like that of a Blooper's black eyes. The end of the Kart is slopes in but is very blunted, probably for safety reasons.
Color Schemes
Edit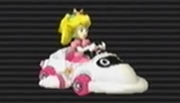 Unlocking
Edit
Statistics
Edit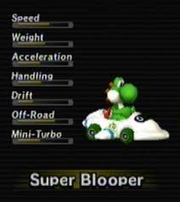 Mario Kart TriviaEdit
In Europe, the Kart's name is the Turbo Blooper. No rhyme, too bad.
The Super Blooper moves its side tentacles when it is boosted.
Ad blocker interference detected!
Wikia is a free-to-use site that makes money from advertising. We have a modified experience for viewers using ad blockers

Wikia is not accessible if you've made further modifications. Remove the custom ad blocker rule(s) and the page will load as expected.