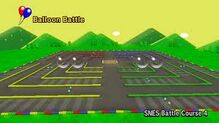 SNES Battle Course 4 is a battle stage from the SNES (Super Nintendo Entertainment System) Mario Kart, and has a very simple and retro feel to it. It consists of many rows, each barricaded off from each other on the sides, but in the middle, you can change. It has an off-road spot in the middle with an Item Box in it. 
SNES Battle Course 4
Course Information
Courses
Other Information
It appeared in the SNES Mario Kart.
If a player has a shell they can throw it over the wall at point blank range.
Internal Links
Edit
External Links
Edit