Retro and Wii cupsEdit
Retro cups are cups from previous versions of Mario Kart.
Wii cups are only from Wii.
You will know if it's Retro because it says N64, DS, GBA etc. Those are retro. The ones without those are not retro they are the Wii cups. The retro cups are the ones on the bottom and the Wii cups are on the top.
Retro CupsEdit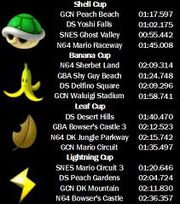 SHELL CUPEdit
GCN peach Beach
DS Yoshi Falls
SNES Ghost Valley
N64 Mario Raceway
BANANA CUPEdit
N64 Sherbet land
GBA Shy Guy Beach
DS Delfino Square
GCN Waluigi Stadium
DS Desert Hills
GBA Bowser Castle
N64 DK Jungle Parkway
GCN Mario Circuit
LIGHTNING CUPEdit
SNES Mario Circuit 3
DS Peach Gardens
GCN DK Mountain
SNES Rainbow Road
MUSHROOM CUP

Edit
Luigi Circuit
Moo Moo Meadows
Mushroom Gorge
Toads Factory
FLOWER CUPEdit
Mario Circuit
Coconut Mall
DK Summit
Wario's Gold Mine
Daisy Circuit
Koopa Cape
Maple TreeWay
Grumble Volcano
SPECIAL CUPEdit
Dry Dry Ruins
Moonview Highway
Bowser Castle
Rainbow Road
Ad blocker interference detected!
Wikia is a free-to-use site that makes money from advertising. We have a modified experience for viewers using ad blockers

Wikia is not accessible if you've made further modifications. Remove the custom ad blocker rule(s) and the page will load as expected.