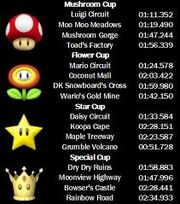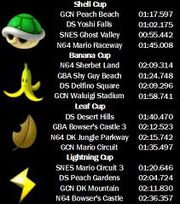 In Mario Kart Wii you will unlock Cups as you win them. Each cup has 4 courses to race in. Each race track has a rank of level.
Wii Cups
Luigi Circuit: Dead Easy. Moo Moo Meadows: Easy! Mushroom Gorge: Easy Enough. Toad's Factory: Okay.
Mario Circuit: Very Medium! Coconut Mall: Medium! DK's Snowboard Cross: Medium Enough. Wario's Gold Mine: Alright.
Daisy Circuit: Fine. Koopa Cape: Large! Maple Treeway: Big! Grumble Volcano: Sort of hard.
Dry Dry Ruins: Not really Hard. Moonview Highway: Stressfull. Bowser's Castle: Hard. Rainbow Road: The hardest thing ever!!!
Time Trials
In Time Trials you ride the same tracks, but on your own. You will have to beat your recent time to get of what you call it: Expert Staff Ghost Data this means you have beaten your time WAY before you last finished. To get Expert Staff Ghost Data you have to: Beat Nintendo's time trial AND finish WAY before your other Time Trail.
Shortcuts
In each race track there is a shortcut, watch the Youtube Video to see some shortcuts, try them out and gain your
Expert Staff Ghost Data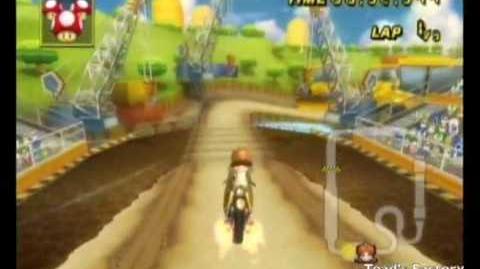 Expert Staff Ghost Data
An Expert Staff Ghost Data is something where you do a course VERY quick you can use many shortcuts that you have discovered.
If your fast enough you could be in the Top 10 worldwide rankings!!!!
Ad blocker interference detected!
Wikia is a free-to-use site that makes money from advertising. We have a modified experience for viewers using ad blockers

Wikia is not accessible if you've made further modifications. Remove the custom ad blocker rule(s) and the page will load as expected.