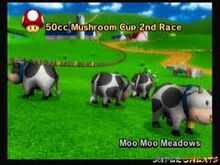 Moo Moo Meadows
Course Information
Number
2
Normal Staff Ghost
Nin★YuNya

01:37.856

Expert Staff Ghost
Nin★Tkym

01:25.909

Courses
Other Information
Normal Ghost Character/Vehicle
Expert Ghost Character/Vehicle
Nitro
Yes
Retro
No
Moo Moo Meadows is the second course in Mushroom Cup, and second course overall. It is a relatively easy course, but it does have various obstacles.

The player begins in a straight-a-way to item boxes. Then you take a left turn, to the path with cows that you must avoid. Next, you take another left turn, a quick right turn, and you can jump on a ramp and do a trick. You then take a short left turn to the path with grass patches, avoiding the Monty Moles digging and jumping up. You can go on a speed-boost ramp to go faster. You then take a short left turn to finish your lap.

Shortcuts

Edit

You may go through the grass any time to cut some land off of your time.















Ad blocker interference detected!
Wikia is a free-to-use site that makes money from advertising. We have a modified experience for viewers using ad blockers

Wikia is not accessible if you've made further modifications. Remove the custom ad blocker rule(s) and the page will load as expected.