Mii (Outfit B) is a character that lets you play as your Mii. The Mii, if it's a male, will wear overalls that look similar to Mario's with a long-sleeved shirt underneath that's color of the Mii's top. If the Mii is a female, she'll wear an outfit that consists of pants that are carpi and a ruffled-sleeved top, that's the color of the Mii's shirt, with a cameo on it like Princess Peach's.
Unlocking
Edit
To Unlock you can do either one of these:
Play 5100 combined Races and battles.
Unlock all 32 Fast Staff Ghosts.
Win 5000 Online Matches.
Stat Bonuses
Edit
For Light Miis: Top Speed +3, Weight +3, Drift +3, Mini-Turbo +3.
For Medium Miis: Top Speed +3, Weight +3, Off-road +3, Mini-Turbo +3.
For Heavy Miis: Top Speed +3, Acceleration +3, Handling +3, Drift +3.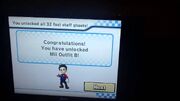 Ad blocker interference detected!
Wikia is a free-to-use site that makes money from advertising. We have a modified experience for viewers using ad blockers

Wikia is not accessible if you've made further modifications. Remove the custom ad blocker rule(s) and the page will load as expected.