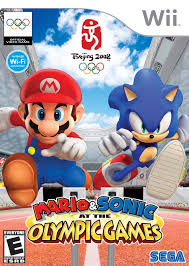 Mario and Sonic at the Olympic Games is a sports game for the Wii and DS. The sports and arenas are based off of the Olympics. Everyone thought the game was an April Fools joke, but Sega announced that it was official. It features Nintendo and Sega characters. It has Nintendo Wi-Fi Connection. The characters are Mario, Luigi, Peach, Daisy, Yoshi, Wario, Waluigi, Bowser, Sonic, Tails, Knuckles, Amy, Blaze, Shadow, Vector, and Eggman. It got mixed to positive reviews. Its sequels are Mario and Sonic at the Winter Olympic Games and Mario and Sonic at the 2012 London Olympic Games.
Ad blocker interference detected!
Wikia is a free-to-use site that makes money from advertising. We have a modified experience for viewers using ad blockers

Wikia is not accessible if you've made further modifications. Remove the custom ad blocker rule(s) and the page will load as expected.