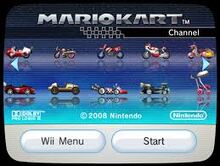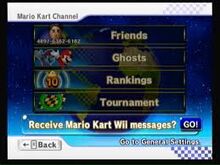 The Mario Kart Channel is a feature that was first introduced in Mario Kart Wii and then Mario Kart 7. It used the now inactive Nintendo Wi-Fi Connection to compete in tournaments.
Description
Edit
Accessible from the main menu, the Mario Kart Channel was an online data/ranking channel with these features:
Friends- look at who is on your friend roster, if you have any...
Ghosts- receive and exchange Ghost Data with friends
Rankings- see where you stand in Friend, Regional, or Worldwide Time Trials.
Tournament- Online competitions with players around the world, completing in brackets to become the champion.
Mario Kart Wii messages- notifies you on active tourneys, ghost data, basically anything Mario Kart Wii related business.
Also, the Mario Kart Channel can be downloaded onto the Wii [Main] Menu in case you don't feel like going through all the loading screens of the game. However, if you want to play and races, the disk must be in the console; otherwise, all's you get to look at his boring stats and rankings.
Mario Kart 7Edit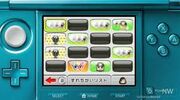 This version of the Mario Kart Channel had to be accessed from the
Mario Kart 7
main menu, unlike the Wii installation. There's a lot of similarities between them, including Time Trial viewing/playing (via Spotpass and Streetpass), statistics such as wins, losses,
Coins
,
VS
rating, and Streetpass tags. You can also now customize your
Kart
combo for your
Mii
during online Time Trials, thanks to that new option in
Mario Kart 7
, and
Grand Prixes
can also be edited to hold your own tracks for your Friends to play.
Mario Kart TriviaEdit
The probable reason that the Mario Kart Channel was not present in Mario Kart 8 is because of newer features such as Mario Kart Television, the new Nintendo Network (replaced Nintendo Wi-Fi Connection) and the social-networking site Miiverse, where players can collaborate and share posts, videos, and screenshots on different games.
Ad blocker interference detected!
Wikia is a free-to-use site that makes money from advertising. We have a modified experience for viewers using ad blockers

Wikia is not accessible if you've made further modifications. Remove the custom ad blocker rule(s) and the page will load as expected.