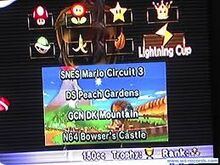 The Leaf Cup is the third retro cup in the game and the sixth overall cup. The first track is DS Desert Hills, which is easy. There are plenty of parts where you can do a quick shortcut on the off road with a mushroom. The second one is GBA Bowser's Castle 3, which can get hard in the later modes. It has sharp turns and a part where you can do a lot of tricks in a row. The third one is N64 DK's Jungle Parkway, which is kind of easy. However, the cave at the end can be hard if you don't have a good handling kart or bike. The fourth one is GCN Mario Circuit, which is pretty easy. It has a few good shortcuts.
Ad blocker interference detected!
Wikia is a free-to-use site that makes money from advertising. We have a modified experience for viewers using ad blockers

Wikia is not accessible if you've made further modifications. Remove the custom ad blocker rule(s) and the page will load as expected.