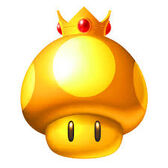 The Golden Mushroom is similar to the Mushroom, except that it gives the Player an infinite amount of speed boosts for about 7.5 seconds. Once you use it for the first time, the hidden countdown starts.
The Golden Mushroom has appeared in Mario Kart DS, Mario Kart: Double Dash, and Mario Kart Wii.
Using this with a Drift Boost can create a ton of speed, so fast that you can go very far off of a Mushroom Platformor edge.
Internal Links
Edit