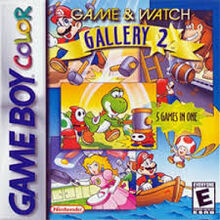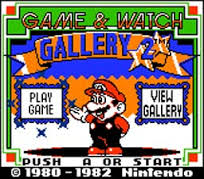 Game and Watch Gallery 2 is a game for the Gameboy. It is the sequel to Game and Watch Gallery, and its sequels are Game and Watch Gallery 3 and Game and Watch Gallery 4. It has six Game and Watch games, one of which has to be unlocked. It was re-released for the Gameboy Color. The games are Parachute, Chef, Donkey Kong, Helmet, Vermin, and Ball. The characters are Mario, Toad, Yoshi, Donkey Kong Jr., Fishin' Lakitu, Boo, Bomb-Omb, Boss Bass, Wario, Koopa, Fly Guy, Podoboo, Thwomp, Peach, Luigi, Koopa Paratroopa, Boo, Donkey Kong, and Bowser.
Ad blocker interference detected!
Wikia is a free-to-use site that makes money from advertising. We have a modified experience for viewers using ad blockers

Wikia is not accessible if you've made further modifications. Remove the custom ad blocker rule(s) and the page will load as expected.