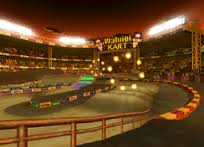 GCN Waluigi Stadium is a weird, but good course. In Mario Kart Wii, it's the last track of the Banana Cup. It's not that hard: there is one really hard turn towards the end, but doing a trick on the ramp and then using a mushroom when you hit the dirt helps. Also, you can drift to avoid it. There are tons of places where you can do tricks, like the mounds, ramps, and speed boosts. Finally, there are fire circles after each speed boost that make your character spin out if you touch them. In the original, there was a part where if you were struck by lightning and tried to go over it, you would fall and have to do a lot of the track again.
Ad blocker interference detected!
Wikia is a free-to-use site that makes money from advertising. We have a modified experience for viewers using ad blockers

Wikia is not accessible if you've made further modifications. Remove the custom ad blocker rule(s) and the page will load as expected.