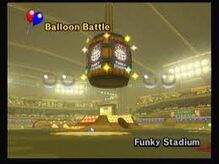 Funky Stadium
is a new
Battle Stage
in
Mario Kart Wii
.
Racers start out at very high chutes over the center arena, and when the timer goes off, they rocket through Boost pads into the main stage. It consist of huge ramps where Tricks can be performed, half pipe sections, patches of sandy areas that make great targets of enemy drivers, and a massive tunnel in the center.
Funky Stadium is widely based off of the Character, Funky Kong. There's even a giant flat screen TV with his face on it. Not to mention they share the first half of their name.
Every time a trick is performed, the crowd cheers.
Internal Links
Edit
Ad blocker interference detected!
Wikia is a free-to-use site that makes money from advertising. We have a modified experience for viewers using ad blockers

Wikia is not accessible if you've made further modifications. Remove the custom ad blocker rule(s) and the page will load as expected.