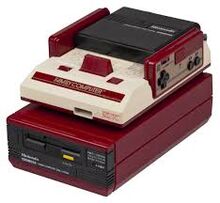 The Famicom Disk System is a system that was made by Nintendo. It was based off of the NES, or Nintendo Entertainment System. It was also called the Familly Computer Disk System. It is an accesory for the Familly Computer. The Twin Famicom was based off of it. Unfortunately, it had some problems that kept it from being popular, like being easy to pirate and damage. 
Ad blocker interference detected!
Wikia is a free-to-use site that makes money from advertising. We have a modified experience for viewers using ad blockers

Wikia is not accessible if you've made further modifications. Remove the custom ad blocker rule(s) and the page will load as expected.