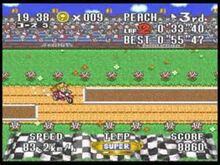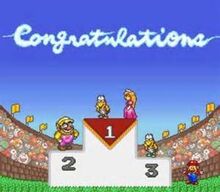 Excitebike: Bun Bun Mario Battle Stadium got its name because Bun Bun is a Japan onomatopoeia for a buzzing sound. Sometimes, it's shortened to Excitement: Mario Battle Stadium. It's a remake of the NES game Excitebike. In this game, the characters were replaced by Mario characters. It was made for the Satellaview. There were four versions of it made.
Ad blocker interference detected!
Wikia is a free-to-use site that makes money from advertising. We have a modified experience for viewers using ad blockers

Wikia is not accessible if you've made further modifications. Remove the custom ad blocker rule(s) and the page will load as expected.