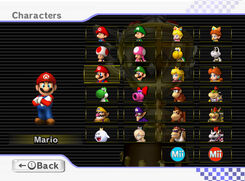 Characters are the people and animals you can play as in Mario Kart Wii. The characters all have different stats and abilities. They are divided into three groups: lightweight, mediumweight, and heavyweight. The lightweight ones are Baby Mario, Baby Luigi, Baby Peach, Baby Daisy, Toad, Toadette, Koopa Troopa, and Dry Bones. The mediumweight ones are Mario, Luigi, Peach, Daisy, Yoshi, Birdo, Diddy Kong, and Bowser Jr. The heavyweight ones are Wario, Waluigi, Donkey Kong, Bowser, King Boo, Rosalina, Funky Kong and Dry Bowser. There are also two Miis.
Ad blocker interference detected!
Wikia is a free-to-use site that makes money from advertising. We have a modified experience for viewers using ad blockers

Wikia is not accessible if you've made further modifications. Remove the custom ad blocker rule(s) and the page will load as expected.